Hydraulic Flash Butt Welding Machine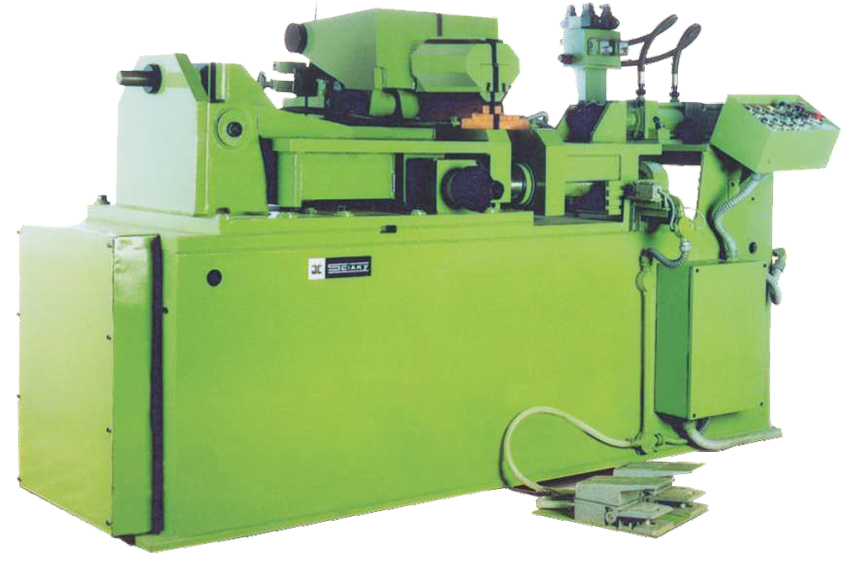 Hydraulic Flash Butt Welders are designed for Heavy Duty application & High Strength Welding of joints with Large Cross Section.​
Rigid Fabricated Frame - Minimum Deflection
Encapsulated Welding Transformer - Longer Life
Low impedance Secondary Circuit - Higher Welding Capacity
Direct acting lever arm clamps with cylinders placed away from flashing zone.
Low friction, accurately aligned movement of Platen.
Hydraulic power pack for positive clamping and upsetting under high pressure.
Controller flashing through flow control.
Accurately machined toolings to match with component profile.
Automatic machine sequence control with PLC for high productivity.
Thyristor power control with tap switches on transformer for optimum weld joint strength
Auto Components - Gear Shifter
Wheel Rims - Tractor Links
Machine Type

UNIT

FBH 100

FBH 150

FBH 250

Rating at 50% duty cycle

KVA
100
150
250
Clamping force
Upsetting force
kg.
kg.
6000
4000
12000
8000
18000
12000
Maximum Capacity
Low Carbon Steel (Expanded Section)
Low Carbon Steel (Compact Section)
Medium Forging Grade Steel
Sq.mm
Sq.mm
Sq.mm
650
375
320
1300
750
650
2000
1200
1000
Machine Installation Data :
Power Supply

Volts
415
415
415
Freq (Hz)
50
50
50
Phase
1 (2 Lines)
1 (2 Lines)
1 (2 Lines)
Disconnect Fuse (HRC) Rating
Amps
250
300
400
Supply Cable Size Cu - 1 Core
Al - 3 Core
mm2
mm2
185/Line
300
185/Line
300
300/Line
400
Water Supply (Pressure 3 kg/cm )
Soft Water (Inlet Temp. <300C)
Lit /min.
40
45
50
Dimensions
Height
Width
Length
mm
mm
mm
1500
900
1850
1900
1100
2500
1900
1100
2500
Weight (approx.)
kg.
3500
4000
4500