Spot cum Projection Welding Machine (SP)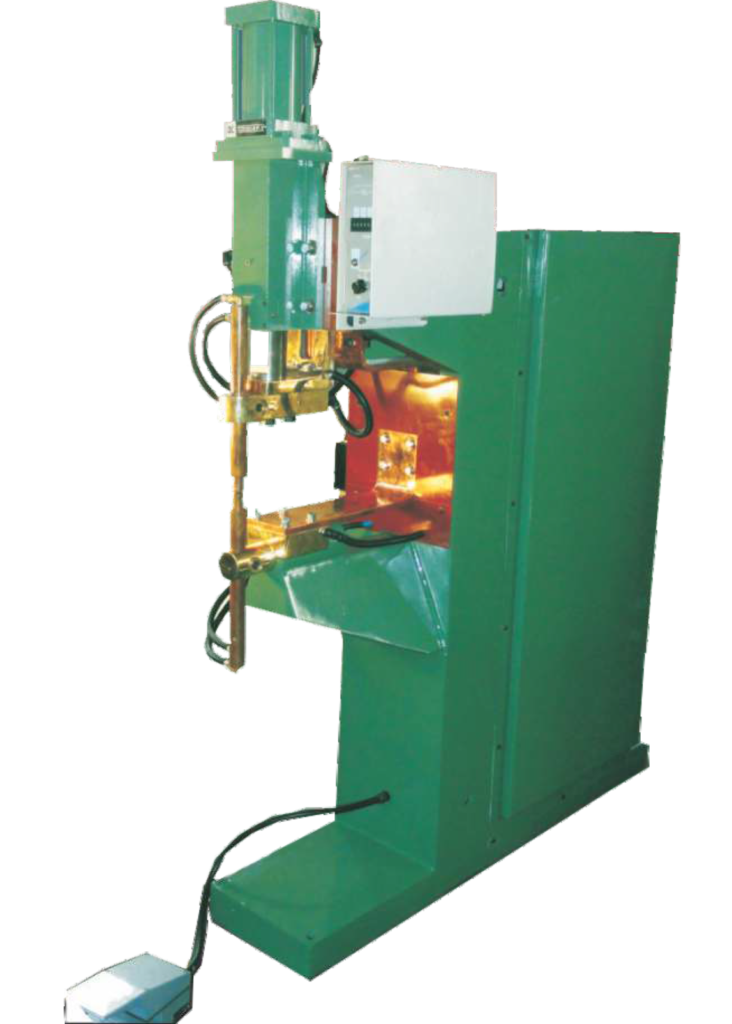 Spot Welding Machines are designed for high quality welded nugget forming and high productivity spot welding operations.​
Strongly welded structure of heavy steel sections.
Quick response welding head :
Double acting pneumatic cylinder operated through quick exhaust air valve alongwith hardened and ground steel ram moving in accurately bored cast iron housing for quick response and high production needs.
Encapsulated welding transformer :
Complete encapsulation of primary and secondary coils in epoxy resin under vaccum allows high duty cycle, high durability and excellent resistance to dust, humidity and vibrations.
Low impendence secondary circuit :
Low impedence transformer design associated with high quality, generous section conductors in energy ef ficient secondar y circuit configuration ensures higher welding current at lower input. Several throat depth configurations to suit variety of jobs.
'State of art' welding control :
various models in CMOS IC Based or MICRO PROCESSOR based controllers.
Many variations with different combinations of welding head, transformer, secondary circuit configuration, electrodes and toolings.
Machine Type
UNIT
SP-25
SP-50
SP-75
Rating at 50% duty cycle
KVA
25
50
75
Maximum secondaryshort circuit current at throat depths (T.D.)
400 mm / 450 mm
600 mm


Amps
Amps


14000
12000


20000
16500


25000
21000
Standard stroke
mm
50
50
50
Throat gap (T.G.)
mm
315
315
315
Maximum electrode force At 5.6 kg/cm2
kg
440
440
440
Weld cylinder dia.
mm
100
100
100
Machine Installation Data :
Power supply (across 2 phase)
415V, 50Hz
415V, 50Hz
415V, 50Hz
Supply cables size
Cu
Al
Disconnect fuse (HRC) rating

sq. mm
sq. mm
Amps

16
25
60

35
70
125

50
95
200
Water supply (Inlet temp. 30° C;
Pressure 3 kg/cm2 )
Lit/min
15
15
15
Dimensions
Height H
Width L
Length L (min TD)
Length L (max TD)

mm
mm
mm
mm

2025
450
1715
2315

2230
560
1715
2315

2230
560
1715
2315
Weight (approx.)
kg
1500
1800
2100