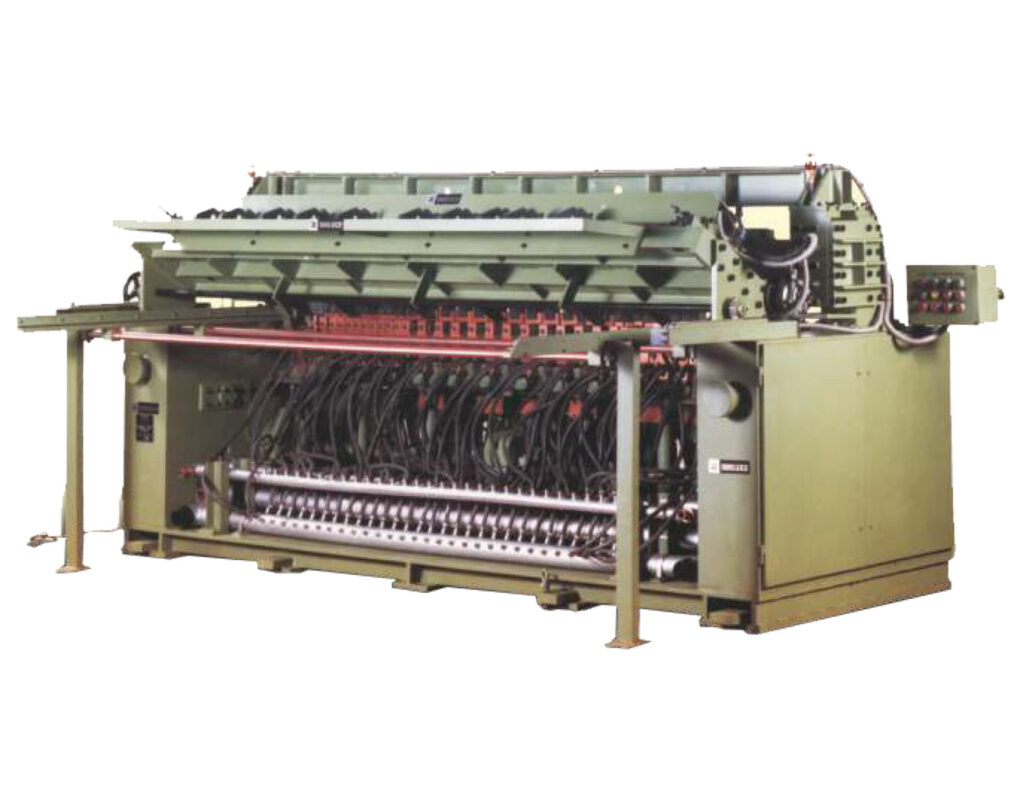 Semi-Automatic wire mesh welders built to produce high quality welded wire mesh continuously
Longitudinal wires pass through collets mounted on a horizontal beam. All the bottom electrodes are connected to transformers through bus bars. Spring loaded top electrode assemblies are mounted on a vertically moving horizontal beam. Indexing of longitudinal wires and vertical movement of welding heads is synchronized and controlled through cranking mechanism.

Cross wires, straightened and cut to required length, are stacked in a hopper and drop one after another on the longitudinal wires over the bottom electrode assembly automatically through an actuator.

Once the cycle starts, every time the longitudinal wires index by one preset pitch, one cross wire is dropped at the welding joint while upper electrode assembly descends and completes the weld.
Weld mesh welder Specications (Standard) :
Model
WMW 2400
WMW1800
WMW 1500
Mesh Width
2400 mm (8')
1800 mm (6')
1500 mm (5')
Wire Diameter
1.8 to 5.6 mm
1.8 to 5.6 mm
1.8 to 5.6 mm
Wire Material
Mild Steel / GI
Mild Steel / GI
Mild Steel / GI
No. of Transformers
9
6
6
Transformer Rating @ 50% duty cycle
100 KVA (9 Nos.)
100 KVA (6 Nos.)
100 KVA (6 Nos.)
Power Supply
415 V, 50 Hz 3ø
415 V, 50 Hz 3ø
415 V, 50 Hz 3ø
Min. Longitudinal Pitch
25 mm
25 mm
25 mm
Min. Cross wire Pitch
25 mm
25 mm
25 mm
Maximum speed
70-80 stroke per minute for wire diameter 2.5 mm
Approximate Weight
8,000 kg.
6,000 kg.
5.500 kg.
Dimensions Length Width Height
2000 mm
4100 mm
1780 mm
2000 mm
2900 mm
1780 mm
2000 mm
2900 mm
1760 mm